This is part of my unconventional interview series, designed to demonstrate the wildly varied ways we can live, work, and chase our dreams. Please keep in mind that, since these are interviews, the opinions, methods, and websites contained within do not necessarily reflect my own views or experiences. (Which is, in my opinion, part of what makes them wonderful.)
---
First, tell us about you, your cooking adventure, and your work in a nutshell
Hey there! My name is Sasha and I eat the world for a living.
I spent nearly four years (from February 2010 until November 2013) cooking a meal from every country in the world, all from my small kitchen in Tulsa, Oklahoma. Each week I served up a new country to my picky husband and young daughter and wrote about it on my blog, Global Table Adventure. To date, I've shared more than 650 authentic recipe adaptations from 195+ countries and territories in an effort to make our planet a little friendlier (and yummier!). My mission is to help people bring the world into their kitchens, one recipe at a time.
I recently wrote about what drove me to take on this massive project and how I got through it in my memoir, Life from Scratch: A Memoir of Food, Family, and Forgiveness  (National Geographic). Ultimately this is a story of finding my place in the world – something I could only do after I made peace with my past.
When did you get the idea of cooking your way around the world? What inspired your project?
The project came to me late one winter night while my seven-month old daughter and my husband were sleeping. I was restless, staring at a set of neglected spice jars my husband had bought me for Christmas a couple of months earlier. He bought them because he knew how much I loved to cook.
Except I wasn't cooking and I didn't know why.
As I studied the empty jars, I imagined the possibility of bringing the world into my kitchen. I wondered if cooking a meal from every country in the world would bring adventure back into our lives. It certainly would get me cooking again.
I became obsessed with the idea.
Global Table Adventure helped me raise my daughter with international perspective, encouraged my picky husband to look at food as an adventure, not an attack, and satisfied my restless energy as a new mother in Oklahoma. But on a deeper level, bringing the world into my kitchen was about much more – it was about finding a sense of belonging and the understanding that real peace starts within.
What was the biggest challenge of cooking your way around the world? Was there ever a time when you wanted to abandon the project and, if so, how did you get past it?
During the last year of the project, when I began writing my memoir for National Geographic, my editor pushed me to dig deeper. I'll always remember her laughing, saying something like "but you aren't just some bored housewife…you're obsessively cooking every country in the world. There's something else going on here…Tell me what that's all about!"
But I didn't laugh. I got a pit in my stomach.
I kept going back to my childhood – the string of foster homes, the painful separation from my mother, and the tragic death of a beloved family member. Food, specifically cooking with my mother, had been an important anchor early on but as an adult I felt disconnected from that experience. As I worked to build my own family, cooking the world had become much more than trying new food – it became my way of working out what unconditional love and belonging meant. Reflected in the desire for my daughter to love her world, I also saw my own need to love my world and feel loved by it. After a childhood in turmoil I was hungry for peace.
As I cooked the countries, lessons from their cultures seeped into my everyday life and I felt a shift – not only in how I saw them, but how I saw myself. Cooking the world changed everything…but the surprise was that the biggest changes came from within.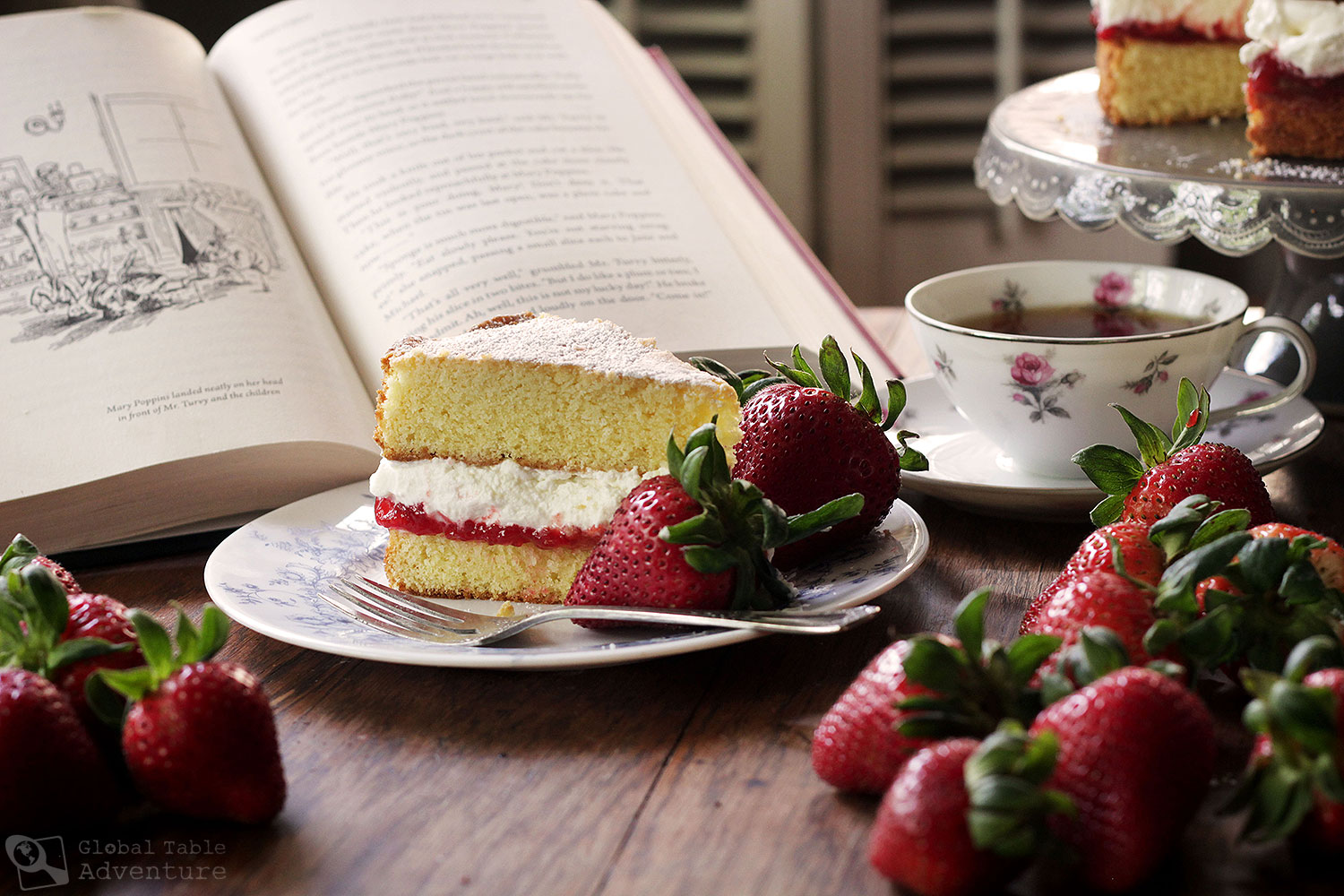 What have been the greatest joys of cooking your way around the world?
Knowing that I gave my daughter the gift of eating something from every country in the world by her fifth birthday gives me tremendous joy. Perhaps some day she'll make the recipes with her children and pass on the legacy.
What have been some of your favorite cuisines?
I loved learning about the regions I knew little about, like the countries of sub-Saharan Africa, Oceania. Did you know they make Rooibos Lattes in Lesotho? And these loaded mashed potatoes enjoyed in Tanzania…how cool are they?
What have been some of the strangest?
In the beginning, I tried a few quirky dishes like babenda made with fermented locust beans, dried fish, spinach, and ground rice…but generally my approach is to use accessible international cooking as a bridge towards understanding other cultures. Global Table Adventure is a community of people who want to try new flavors, but they are not interested in experimenting with exotic recipes just for the shock factor.
That's why you won't see recipes for cobra hearts or deep fried tarantulas on the blog.
I mainly use standard pantry ingredients in my recipes; everything on my site I was able to make from ingredients purchased in Tulsa. It's part of my cook global, shop local philosophy. I have hundreds of new ways to cook potatoes, rice, and pasta – for example.
How did you choose which countries to cook from next?
I went A-Z because I wanted it to be totally unbiased!
What's next for you? Are you still cooking the world or have you moved onto another project?
I'm really excited to share my story of peace and belonging in my new book. You can watch the book trailer to get a fuller sense of the story. Also, I continue to add new and delicious international recipes to Global Table Adventure, all while cheering on our community of readers who have taken on their own cooking challenges.
---
Huge thank you to Sasha for sharing her beautiful story.
Now it's your turn: have you done any international cooking? Any long-term quests? I'd love to hear about your experiences too.
---
Looking for more unconventional interviews? This woman has been walking pilgrimages around the world, this one is exploring the world by bike, and this main coined the term "microadventure."